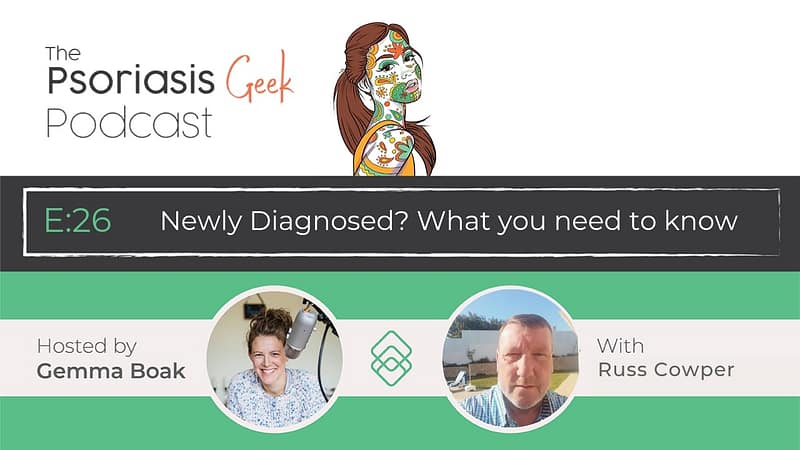 So you have psoriasis?
Did you expect it?
Whether you thought you had an infection, a form of eczema or had no choice but to accept it was something else – you probably have a lot of questions.
It's easy to get overwhelmed.
This is the bare bones to get you started because there are so many things you can do- so do not fear!
This is what I would say to you I was waiting for you in the doctors waiting room. What I would say to you over coffee as I gently touched your arm in a comforting gesture of love and understanding.
Step One.
Know that it's ok to feel all of the things you are feeling
It's ok to feel whatever you feel. It's ok to be angry, it's ok to be sad, it's ok to be frustrated, it's ok to be concerned, and it's ok to resist the diagnosis for a while.
Whatever emotion you are feeling, millions of people have felt the same before you.
Psoriasis affects roughly one in every fifty people.
You are not alone.
We are here for you when you are ready.
Step Two.
Good relationships with your G.P are non-negotiable
You will need your G.P. They can both co-ordinate your care when you need to see different specialists, and they can prescribe you the creams you need to manage some of the symptoms.
If you don't like your G.P or you are at a surgery that never has any appointments, then that isn't going to work for you.
Psoriasis is a long term condition, and investing time into building a relationship with your G.P is a core part of your management strategy.
If you don't like your G.P, you can get another one. This will help you if you're unsure.
If your surgery is busy, you have two options (and a get out of jail card).
1/ plan your appointments months in advance and then cancel them if you don't need them. Then you know when you will next see your doctor.
2/ swap surgeries to one with a better patient management system/ethos (they do exist).
Get out of jail free card? The secretaries have no medical training. You telling her your having a psoriasis flare doesn't mean a lot. If you explain in detail how you are feeling and how desperate you are to see a doctor, then-then – she will do everything to help you. Doctors have emergency appointments and in some cases will see you at the end of their surgery time. This has happened for me twice. You have to be adamant. Tell them the truth.
Step Three.
Get Informed.
Psoriasis is a complicated condition with several treatment routes and more alternative approaches. If you understand your treatment options before you go to your appointment, you can use your short appointment time to discuss your options- instead of spending most of it with the doctor plodding through the information you could have read on the internet.

Most places have a predictable treatment path.
Topical creams – then – UV treatment – then – systemic drugs – then – biologic drugs
If you're newly diagnosed, you will most likely have to try creams (commonly called topicals) first.
So read about :
creams like Vitamin D derivative products like Dovonex and read about topical steroids like Hydrocortisone and Eumovate.
tar based treatments like T gel shampoo.
and if you want to be really knowledgable- read about pUVA and nbUVB
There are also lots of lifestyle changes that have the potential to make considerable improvements in your psoriasis- but they are slower to come to fruition, so it's still worth exploring the treatment route.
You can use treatments to support you as you make the lifestyle changes you need.
Want to skip this step? The Psoriasis Association state that Educated `patients have the highest success rates.
Just make sure you're not on Facebook for advice. Not yet.
My favourite places to find factual information are The Psoriasis Association and The National Psoriasis Foundation. Both places have staff in place to answer your questions via email and phone. The Psoriasis Association has recently launched a Whatsapp service too.
It's worth noting that while The National Psoriasis Foundation is a U.S based organisation- they support people worldwide too.
Russ also loves The Psoriasis Shout Out website.
Top Tip: Write down your questions as you read up – you will not remember them when you get to your appointment. It helps you get answers to what you want and it stops your doctor from driving the discussions based on their interests. Double bonus.
Step Four.
Take control

Psoriasis is more than a skin disease so you need to be aware that there are more options than anyone specialist may tell you.
I have employed the services of many health professionals in my journey to better health. Some of those which added value include:
Accupuncturist
Nutritionist
Gastroenterologist
Clinical Psychologist
Dermatologist
Some (most) of these were not recommended by my doctor, but whose services I employed privately. There are more but they didn't work for me- so I won't mention them here.
I believe in a holistic approach to healing but that doesn't mean woo. For me that means looking at my body as a whole – and for that I need more than one specialist.
Step Five.
Community is everything
This is possibly the most important, and I possibly feel this way because it is often the most overlooked by all of us.
Growing up I knew no one like me. I didn't talk honestly about my condition and when I spoke to my doctor I always told them I was fine. Compared to the last flare- I usually was fine (but not well, or great, or vibrant – the things we should be striving to be). Just Fine.

Ask for help- there are many places you can go to talk to other people who are either struggling with the same things as you or who have lived through them already.
Some places you can find someone to talk to:
A word of warning
All of these places are great for finding people who can hive you hope, who can lift you up when you feel down, who can tell you what you need to hear…I GET YOU.
You can also get ideas for new approaches to try- just do not take advice on facebook/ Forums/ Social Media. I have seen lethal information on Facebook, and I am not exaggerating. Explore the ideas you encounter and then discuss them with a professional. preferably your doctor- but if not then someone qualified in what you want to do.
Just remember this if nothing else:
You are not alone.